Are There Signs of a Plumbing Leak Inside the Walls of Washington Township Homes?
10/22/2021 (Permalink)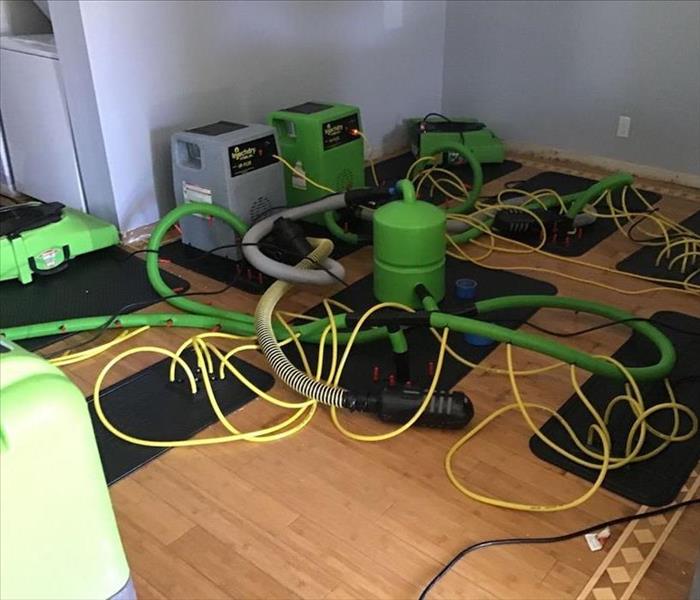 Water damage restoration for your home is no easy task. Call SERVPRO for the experienced and technology needed for your property.
Certain Signals Could Indicate Water Damage in Washington Township Properties.

A leak might be initially difficult to detect. Homeowners can go weeks without even suspecting damage exists. When you know what to look for, possible plumbing leaks can be more quickly identified and acted upon by our experienced restoration professionals.

Building Materials Distort or Sag
Physical signs of damage can indicate a need for water restoration in Washington Township homes. As materials become burdened with the weight of added moisture, they can begin to swell or sag. Physical altering of installed elements can show an urgent need for restoration. Some affected materials in wall systems include:
Drywall
Ceiling Tile
Insulation
Framing
Surfaces Are Wet to the Touch
Damp surfaces are a clear indication that a problem of some sort exists. Even if it is not a broken pipe, it could spell a leak coming from the roof or some other possible problem requiring attention. Moisture, where it should not be, is always an indication to act.

Drywall is Discolored in a Puddle Pattern
Another indicator that you might have a leak within a wall cavity or a ceiling is a slowly widening stain. Brownish stains form on surfaces as water chemically reacts through evaporation and leaves deposits of minerals behind.

How Can SERVPRO of Warren County Help?

Once you recognize a problem, our SERVPRO of Warren County team can help you with fast repairs and restoration solutions. We limit the demolition necessary with controlled tactics and focus on recovering damp, structural elements, when possible, to save a customer's time and money.

Identifying a plumbing leak or breach in your wall or ceiling system can help you to resolve a situation before it gets much worse. As leading restoration professionals serving the area, we have experienced technicians ready to mitigate loss and repair your damaged property. Give our SERVPRO of Warren County team a call today at (908) 454-3900.