How do I Prevent River Overflow from Impacting my Hackettstown Business?
6/21/2020 (Permalink)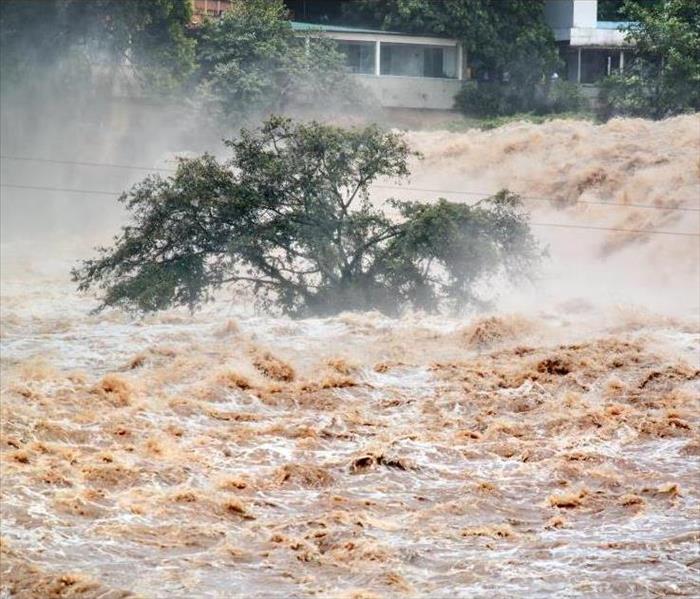 Make sure to formulate a plan for flooding if your commercial property is located next to a river. Contact SERVPRO after an event.
Enlisting SERVPRO Commercial Flood Damage Restoration Services Can Significantly Reduce Losses for your Hackettstown Business.
How can I protect my business against flooding?
Hackettstown is a flood risk area with the most likely cause of flooding coming from the Musconetcong River. During Hurricane Irene, the river tide rose by a massive two and a half feet, causing significant flooding of residents and businesses in Hackettstown. While preventing a flood is impossible, preparing for it properly can help you to reduce losses. Flood preparations may include taking out a specific flooding policy alongside your business insurance, which means you have coverage for property damage and revenue loss. Taking down the number of a professional restorer can also be beneficial as it allows mitigation of injuries on your premises to be undertaken as quickly as possible after a natural disaster.
How do you mitigate losses in flooded business premises?
The initial steps of mitigation for commercial flood damage in Hackettstown focus on draining the property and drying it out. Wet premises can lead to a massive amount of irreversible damage without timely intervention and, in some situations, can cause a full-building collapse. SERVPRO technicians can mobilize efficiently because we live and work in this community. Our trucks are stocked ahead of time during periods when flooding is likely. By being prepared, we can begin mitigating commercial flood losses within four hours of receiving notification of loss.
Are wet electrics saveable?
Most businesses have a significant amount of electrical supplies running from computers, screens, and tablets. These can be adversely affected by the presence of moisture, especially if there is a current running through them at the time of flooding. Monitors and other screens can become permanently harmed by water intrusion in Hackettstown, which can cause interior condensation. One method of controlling electrical losses is by maintaining electrics above the dew point. SERVPRO technicians can use a combination of portable temperature controllers and dehumidifiers to ensure that waterlogged equipment remains above the dew point. This method can provide enough time to enlist electrical specialists to restore any damaged electrical equipment.
What are special services available for specific equipment?
Document drying and recovery
Electrical repairs
Hardwood restoration
Acoustical ceiling drying
Is water contamination an issue with river overflow?
Exterior flooding, as a result of river overflow, has a high-risk of water contamination. When water travels several miles, it absorbs pathogens, bacterias, and pesticides on the route. These pesticides can enter your business premises alongside water and require expert attention. It is essential to act quickly when water intrusion occurs in your business because the longer water resides, the more it is absorbed by furnishings, floors, and drywall. Any building materials that absorb flood waters are equally contaminated. To contain the contamination, it is necessary to remove and replace wet items in your property. SERVPRO technicians can perform controlled demolitions to isolate and restore contaminated materials.

How can you contain flood water contamination?
Isolate areas with water intrusion avoiding entry or foot traffic
Establish decontamination areas and seal unaffected areas using polyethylene plastic sheets
Only enter an affected area with correct personal protective equipment that is decontaminated when leaving
Remove and replace any materials that come into contact with contamination
Do I need odor removal after flood intrusion?
We recommend that your business premises undergo both odor removal and air filtration. Floodwaters can carry with them unpleasant microbial bacteria, viruses, or mold as well as sewer gases. These pathogens can be dangerous through ingestion or inhalation. We can deploy air filtration devices (AFD) on your premises to filter out harmful bacteria or microorganisms. AFDs use a combination of five filters to pass air in an indoor environment. For larger business premises, we can deploy large exterior units ducting supply points and exhaust out of the building. Over several hours our team can filter out most particles from the air. We usually follow up any final restoration with industrial fumigation using ultra-low volume misters.

Do restorers help with insurance paperwork?
The instigation of an insurance claim has to be undertaken between the policyholder and their insurer. SERVPRO is a service that focuses on the physical restoration effort. However, we do record all inspections, moving of contents, cleaning, drying, and deodorization in real-time using a digital inventory. These inventories can be passed to your insurer during the process to take the stress out of your claim. We can also note the outcomes of any work undertaken at your business premises during the final stage walk-through. A walk-through involves a crew chief and a premises manager as we talk to you through the restoration procedure as well as any points of concern. We believe that communication is essential to functional restoration, so we encourage you to speak with our crew chiefs as much as possible during cleanup.

If your business needs immediate assistance to recover from flooding, contact SERVPRO of Warren County at (908) 454-3900.