How Do Hackettstown Residents Get Fire Damage Restoration?
4/29/2021 (Permalink)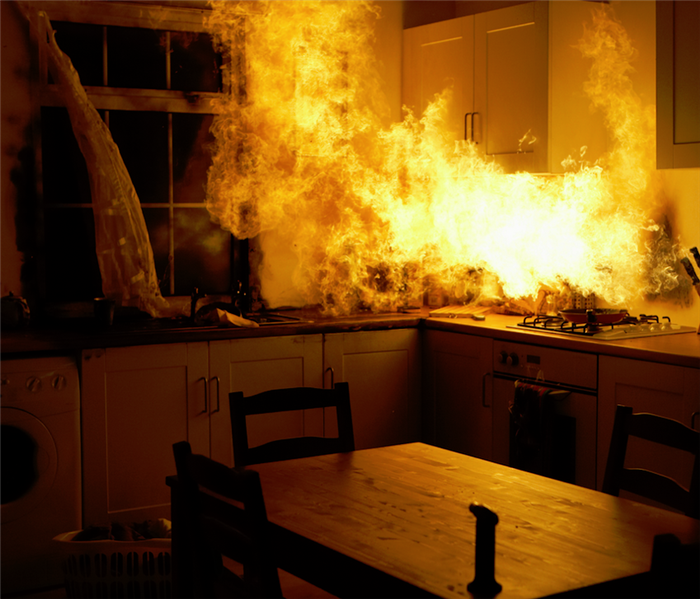 Fires can escalate very quickly. React just as fast when the firefighters leave with a call to SERVPRO. Our technicians are standing by 24/7.
SERVPRO Operates in Hackettstown for Residents in Need of Fire Damage Restoration
Hackettstown is primarily a residential suburb in Warren County. The New Jersey township is full of local character, which can be absorbed by walking through the historic downtown and main street areas. One of the defining characteristics is its small-town feel emphasized by the abundance of boutiques, independent stores, and restaurants. During the daytime, a trip along Main Street is a treat of family-run delis, cafes, and breakfast spots. The surrounding area around Hackettstown is primarily rural agricultural. The benefits of living in a farming area are evidenced by the numerous farmers' markets, craft breweries, and homemade ciders. Geographically, Hackettstown is positioned alongside Lehigh Valley, which offers excellent hiking trails and picnic spots.
The population of Hackettstown was listed as 9,724 permanent residents as of the last census. However, despite a relatively small population size, the education system is excellent with several Blue Ribbon schools- the highest award of excellence in an American school can receive. Hackettstown has been voted among the top 100 small villages to live in across America. Warren County was originally owned by the prestigious Rutherford family, who purchased several mansions and estates. Rutherford Hall, located in the township, is listed on the register of historic places and is open to the public for tours of its art and antique collections.
Donaldson Farms is a short drive outside of Hackettstown and features over 200-acres of farmland. The farm side restaurant and cafe are excellent places to experience the local produce, fresh from the fields. Regular farmers' markets also sell homemade salsas, confectionery, baked goods, and home-brewed ciders.
Local independent restaurants are commonplace along historic Main Street. Popular destinations include James on Main, which serves contemporary American dishes and consists of a popular bbq brunch on a wood-fired grill during the afternoon. Sizzle BBQ is another open grill destination combining wood charcoal and Argentinian-style cooking.
The Lehigh Valley is situated to the west of Hackettstown but has numerous theme parks, entertainment centers, and festivals. The Dutch Springs is a highlight which promotes diving activities as well as camping grounds for weekend stays. The Lehigh Valley is also home to Wind Creek Bethlehem Casino.
SERVPRO Can Restore your Home after a Damaging Fire in Hackettstown
The prospect of restoring your home after a damaging property fire is not something any homeowner likes to think about. Unfortunately, property fires do happen. They can often occur as the result of malfunctioning electronics, unattended kitchen stoves, or naked flames.
We can help with:
Smoke damage
Fire restoration
House fire cleanup
It is difficult to know where to start with fire damage restoration for your Hackettstown home. Thankfully, professional services have experience working on properties in the local area that are just like yours. SERVPRO uses local technicians and industry-leading equipment to ensure that your home returns to its normal condition after a fire.
Cleaning ceilings is conducted with an extended dry sponge before moving onto individual fixtures such as light fittings.
Kitchens and bathrooms usually require special equipment like compressed air or alkaline cleaning agents to restore.
We can often restore contents on-site to speed up the restoration process.
If your property falls victim to fire. Contact SERVPRO of Warren County for fire damage restoration at (908) 454-3900.