How Long Will Fire Restoration Take?
2/19/2021 (Permalink)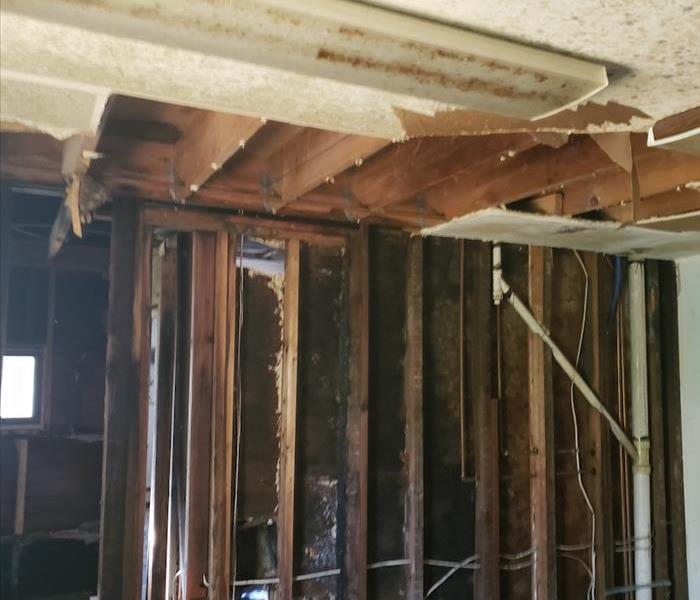 Fire damage done to your property needs to be handled professionally. SERVPRO has the team of IICRC certified technicians for the job.
Calling in SERVPRO for fire restoration limits downtime within your Hackettstown commercial property
Hackettstown, New Jersey, is a beautiful little valley region situated along the Musconetcong River banks in the state's northwestern portion. This is one of the few towns within the entire United States where there is no other town by the same name.
Fun Fact: Back in the 1700s, it has been said that Hackettstown, NJ, saw frequent visits from George Washington. The first President of the United States would make his way to the area to visit his friends Robert Wilson and wife, Martha Stewart Wilson.
Notable people to come from Hackettstown include:
Comedian Chris Wylde
Television actor Jimmi Simpson
Television actor Eric Millegan
There are some pretty interesting facts about Hackettstown, New Jersey, including:
In 2005, Hackettstown was named 72 out of 100 United States towns as one of the best places to live and work as listed in Money Magazine.
Stories say that Hackettstown got named after an early settler/landowner named Samuel Hackett. He is known for contributing liberally to christening a new hotel with liquid refreshments.
Hackettstown, NJ, is home to the Mars Chocolate USA headquarters. This facility manufactures various popular chocolate bars like Snickers, Mars, Twix, M&Ms, and Milky Way.
What's Brewing in Hackettstown?
Everyone loves to visit a good brewery, whether you are a fan of beer or looking to enjoy an evening out. There is a reason why breweries are so popular, with many people finding great joy in experiencing new craft beers with friends. Hackettstown has several incredible breweries to check out, including:
Jersey Girl Brewing Company – Located on Sand Sore Road, this brewery offers a nice tasting room along with a full selection of locally crafted brews. One notable perk of visiting this establishment is that they allow people to bring well-behaved dogs on a leash.
Czig Meister Brewing Company – Situated on Valentine Street, this brewery offers a Biergarten vibe with a modern-day twist. The atmosphere is light and fun, complete with a full selection of microbrews and other craft cocktail options.
Man Skirt Brewing – You will find this unique brewery on Main Street with a tasting room available for sampling over a dozen rotating taps. There are small-batch beers on the menu that many locals and visitors alike rave about.
Your Hackettstown Business Benefits Most from the Proven Fire Restoration Methods SERVPRO Provides
Restoring your Hackettstown business after a fire takes place calls for many moving parts. SERVPRO features skilled fire and smoke restoration technicians (FSRT) to tackle all elements in unison to bring your commercial space back to pre-fire condition. This includes everything from debris removal and structural reinforcement to smoke and odor control.
Fire restoration in Hackettstown with the help of SERVPRO means that we take a look at several factors to determine whether contents and materials are salvageable, including:
Air pressure
Moisture content
Heat exposure
Surface condition
Material types
Impingement and more
We do whatever possible to make sure that your business is "Like it never even happened," when you call us for fire restoration. You can reach SERVPRO of Warren County 24/7 by calling (908) 454-3900.